Smt. Sushma Vora (Director)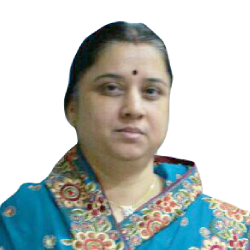 Smt. Sushma Vora is the Board Member of our society. She was born on 31st October, 1968 in Nagpur, Maharashtra and is the wife of Shri Girish Kumar Vora.
She finished her matriculation from Nagpur in 1985 and then joined L.A.D College, Nagpur to pursue a degree in Bachelors of Science (B.Sc.). During her college days, she was a part of the National Cadet Corps (NCC) Air Wing where she became a Glider Pilot (C-Certificate). She was also the member of Delhi Flying Club.
Later, she joined Rajendra High School, Nagpur as a primary school teacher to fulfil her passion for teaching young children. She taught there from the year 1987 to the year 1991. Currently, she takes care of various family owned trusts and societies, running schools in the rural areas of the state. She is also a Member of Executive Council of Pragati Education Foundation, Pragati College of Engineering & Management, Pragati Goenka International School and Pragati Siksha Kendra..