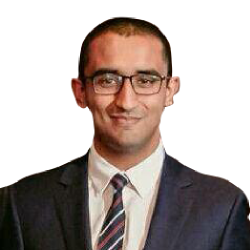 Dr. Rahul Vyas is on the Board as a member in the Society. He is the grandson of Shri Govind Lal Ji Vora and Smt. Prakash Vora, and the son of Smt. Ranjana Vyas and Dr. Rajeev Vyas.
While at the University of Michigan he served as the Managing Editor for the Michigan Journal of International Affairs from 2010-2012 and published several articles on global politics. He also completed an honors thesis in biochemistry prior to graduation.
He then began his medical training at the University Of Toledo College Of Medicine (UTCOM) in 2012 and earned his MD in 2016. While at UTCOM he was a Board Member for the Community Care Clinic – a free clinic that provides medical care to the underserved and without medical insurance and was selected by his peers to the Gold Humanism Honors Society, which recognizes medical students for their commitment to humanism in medicine.
In 2016 he started his Internal Medicine residency and was awarded the Lance Dworkin Scholarship Award, which is given to the top UTCOM graduates who join residency at the University of Toledo. He was also subsequently voted by his peers and faculty as the resident of the year. His current research interests include Left Ventricular Assist Devices (LVADs) for end-stage heart failure and pharmacologic management of neurocardiogenic syncope. Currently, he in his third and final year of Internal Medicine training and is in the process of applying for a Cardiology fellowship.
Dr. Rohit Vyas is grandson of Hon. Chairman Shri Govindlal Vora and Smt. Prakash Vora. He is the eldest son of Dr. Rajeev Vyas and Ranjana Vyas. His younger brother is currently in his second year of medical school at the Wayne State University School of Medicine.