Shri Rajeev Vora (Director)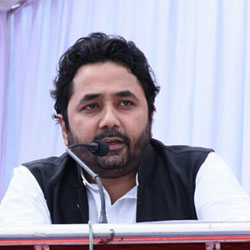 Mr. Rajeev Vora is the Secretary of our society. He is contributing with all his efforts in the fields of journalism, education, social works as well as politics. He is the younger son of our Hon. Chairman Shri Govindlalji Vora and Smt. Prakash Vora.
He was born in October 1979 at Raipur. He finished his matriculation from Raipur and then went on to finish his graduation from Pune University. He further pursued an MBA in Project Finance from Institute of Management Education (IME), Pune.
An Accredited Journalist in Govt. of Chhattisgarh, Rajeev Vora has also been a part of the company which runs Amrit Sandesh, ever since he joined it at a young age of 23 in the year 2002. He played his part in making Amrit Sandesh one of Chhattisgarh's leading newspaper with a subscription of 75000+ copies.
Providing quality education to the children in rural areas has always been Rajeev Vora's main motto and he has done that throughout his life until now. He is the Secretary of Pragati College of Engineering and Management, Pragati Goenka International School, Pragati Siksha Kendra & Pragati Education Foundation at Raipur. As a member on the boards of different educational institutes, he works towards bringing an educational reform in the state.
Rajeev Vora is also very active in various social organizations. He is the Secretary of Chhattisgarh Educational Society, Chhattisgarh Charitable Eye Hospital, Bal Ashram Orphanage, Gram Seva Samiti, Rastriya Vidyalay, Daga College, Mahant College, Chhattishgarh College, Lakhe School, Vidya Mandir Samiti, Krishi Gau Rakshani Samiti, Pt. J.L.Nehru Cultural Trust, Choubey Colony Co-Operative Society and Shiv Dharam Shala.
Further, he is a member of Chhattisgarh Pradesh Congress Committee and a Delegate of All India Congress Committee (AICC). He views politics as a platform to work for social causes, especially for deprived & weaker sections of the society.
His wife Deepali actively participates in all the family trusts and societies that work in the fields of culture, arts & social causes while also taking care of their children Vyom and Vrinda.