Dr. Nitin Vyas (Director)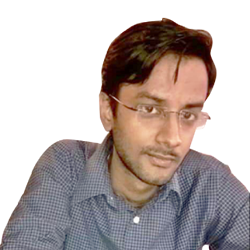 Dr. Nitin Vyas is the member of our Society. He is currently a post-graduate medical student at Pediatric Surgery Centre & P.G. Institute, Sangli (Maharashtra) where he is part of residency program for learning neonatal (new born) and pediatric surgery cases.
Born in Jaipur in 1989 and brought up in same city, he is the grandson of our Hon. Chairman Shri Govindlal Voraji and son of Dr. Ramesh Chandra Vyas and Mrs. Vandana Vora Vyas. He completed his Bachelors degree of M.B.B.S. from Sri Aurobindo Institute of Medical Sciences, Indore in 2014. He then cleared the Post-Graduate Entrance Exam and got admission in Pediatric surgery centre & P.G. Institute, Sangli(Maharashtra) where under the guidance of some of the finest pediatric surgeons of India, he is assisting and performing surgeries of new born and pediatric age group.
He has been actively participating in various state, national and international level conferences of pediatric surgery, where he has given various case presentations. He is also active in various monthly screening health camps in areas of South Maharashtra. He also gained experience in emergency medicine at L.N. Medical College, Bhopal (M.P.) in 2013.
Nitin actively pursues photography as his hobby.