Dr. Nikhil Vyas (Director)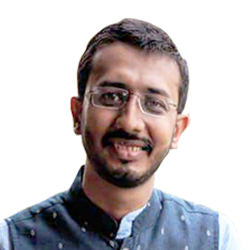 Dr. Nikhil vyas is a member of our society. He came into this material world on 1st September 1987 in the Raipur, Chhattisgarh as the eldest maternal grandson of our Honorable Chairman Shri Govind Lalji Vora and as the eldest son of Dr. Ramesh Chandra Vyas and Smt. Vandana Vora Vyas.
He was brought up in Jaipur, which is where he finished his high school. After that he did his graduation in medicine and obtained the degree of M.B.B.S from D.Y. Patil Medical College, Navi Mumbai. Later, he cleared the post graduation entrance exam and joined as a post graduate trainee in the department of General Surgery in North 24 Parganas District Hospital, Kolkata and completed his post graduation in the year of 2017.
After completing his M.B.B.S. he worked as a resident medical officer in few corporate hospitals of Delhi. He also worked as an ambulance (air as well as road) doctor for 2 years. After post graduation, he has so far worked at AMRI Hospital, Kolkata and at Max Smart Hospital, Delhi as a Surgery Registrar.
He is a Member of Association of Surgeons of India.