Shri Girish Vora (Director)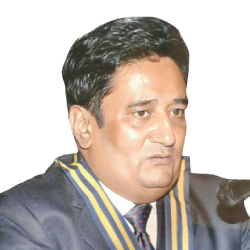 Girish Kumar Vora is the Treasurer of our society. He is known for his work as a journalist, Rotarian and social-worker. He was born on 13th December 1964 in Mumbai, Maharashtra and is the elder son of Shri Govindlal ji Vora and Shrimati Prakash Vora.
He was brought up in Raipur and earned his Masters of Commerce (M.Com) in Economics from Pt. Ravishankar Shukla University in 1987. Soon after completing his education, he started administering a printing press named 'Raipur Printers'. Later, he joined Amrit Sandesh as a journalist in the year 1988.
Currently, he is on the Board of Pragati Education Foundation, Pragati College of Engineering & Management, Pragati Goenka International School, Pragati Siksha Kendra, Pragati Education Society and he is the Director of Pragati Prakashan Pvt. Ltd. and Pragati Press Pvt. Ltd., the owning companies of Amrit Sandesh.
Girish Vora has always had a firm belief that apart from his role as a journalist, he should always give something back to the society. So he associated himself with the Rotary Club of Raipur. As a Rotarian, he is actively involved in various seminars and social camps organized throughout the state by the club. Recognized for his efforts, he was appointed as the President of Rotary Club of Raipur for the period of 2011-2012. His continued efforts as a social worker helped him achieve various awards including the Paul Harris Fellowship Award.
His wife Sushma takes care of various family owned trusts and societies running schools in the rural areas of the state. His elder son Sourabh is working as a Machine Learning Engineer at nuTonomy, United States while his younger son Vikram is pursuing his Masters abroad.